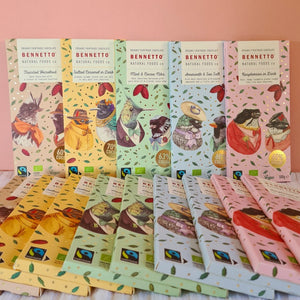 Bennetto Artisan Chocolate is chocolate to feel good about – organic, Fairtrade, vegan, carbon neutral and made with simple ingredients! So why not add a little extra sweet treat to your gift, I mean who doesn't love chocolate! 
Did you know that this gorgeous Benetto chocolates also assists with supporting education opportunities for women and reforestation in the Amazon... and they plant 1 tree for every 1000 bars of chocolate sold!!
Honestly, what could be better than that!!
Available in an assortment of colours & flavours, chocolate will be chosen at random to best complement your chosen gift.
 Choose to purchase this item for yourself, add it to a hamper or Nappy Cake, or even have it sent directly to the gift recipient complete with your personal message for the gift card.