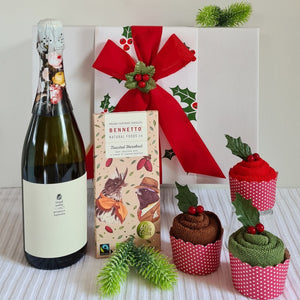 Tread Softly This Christmas Hamper Ingredients:
I simply love to hand pick our wine selection from earth friendly companies... and we think the Tread Softly This Christmas Hamper is the perfect earth friendly gift this year! With indulgent organic chocolate that is gluten free, vegan friendly & sustainably made paired together with and a bottle of Tread Softly Prosecco, this hamper is perfectly picked for the earth friendly person in your life. 
By using more sustainable vineyard management and wine-making techniques to ensure their production has had a minimal impact to the environment, Tread Softly is committed to reducing their carbon footprint and so commits to planting an Australian Native Tree for every 6 bottles sold. 
And the gorgeous Benetto chocolates assists with supporting education opportunities for women and reforestation in the Amazon... and they plant 1 tree for every 1000 bars of chocolate sold!!
Honestly, what could be better than that!!
Please note that all our hampers can also be made alcohol free, so just request this if needed and we will replace it with something scrumptious instead!
All our Hampers are filled with an assortment of sweet treats to brighten that special someone's day!! No matter what the lucky recipients weakness is, be it, chocolate, chips, cheeses or more, all our hampers can be made to suit any budget, age or sweet tooth desires!
They come presented wrapped with a coordinating bow and gift card. We create our hampers one at a time with each recipient in mind, and all our hampers are made fresh after you place your order.