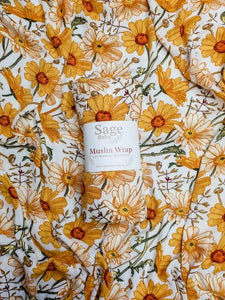 Our Daisy wraps are extravagantly soft & luxurious! Made from 70% premium bamboo and 30% cotton, they are super soft, lightweight, breathable, and perfect for swaddling, shading or privacy when feeding. 
The bamboo & cotton natural fabric blend not only feels luxuriously soft but has so many benefits! Bamboo has antibacterial and hypoallergenic qualities, it is absorbent & breathable, and one of the most eco-friendly fabrics on the planet! The cotton blend helps the wrap maintain its durability, as well as being a healthier, less toxic alternative to synthetic fibers.
Large Size 120cm x 120cm
Fabric 70% Bamboo 30% Cotton
Choose to purchase this item for yourself, add it to a Nappy Cake, or even have it sent directly to the gift recipient complete with your personal message for the gift card.