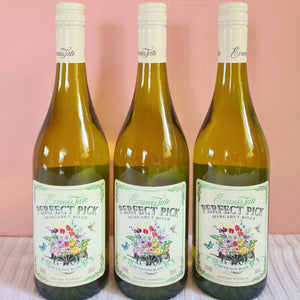 Evans & Tate Perfect Pick Margaret River Sauvignon Blanc is the 'Perfect Pick' to add to any hamper to celebrate the special person you have 'picked' to celebrate.
A proudly easy-to-drink and refreshing wine. Premium fruit was picked at optimal ripeness to create a perfectly balanced and elegant expression of this delicious varietal. Rich tropical flavours are complimented by fresh aromatics and a zippy citrus finish. 
It's a typical Sauvignon Blanc, pale with hints of green and perfectly balanced flavours of lemongrass, nectarine, passion fruit, snow pea and cut grass.
The bottle comes gift wrapped to complement your chosen gift.
Choose to purchase this item for yourself, add it to a hamper or Nappy Cake, or even have it sent directly to the gift recipient complete with your personal message for the gift card.