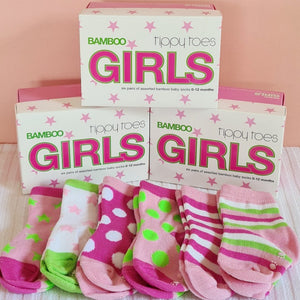 Bless your cotton socks, this gorgeous range of Bamboo Tippy Toes makes an ideal gift for newborn babies. Made from quality soft bamboo cotton with stretchy elastane for extra comfort, Tippy Toes feature a soft elastic cuff that stops socks from sliding off and special non-slip paw prints on the soles for the early little walkers among us. Suitable for bubs 0-12months the Tippy Toes will keep tootsies warm in winter and cool in summer.
Made from bamboo cotton and perfectly sized to fit 0-12 months.
Choose to purchase this item for yourself, add it to a Nappy Cake or Hamper, or even have it sent directly to the gift recipient complete with your personal message for the gift card.