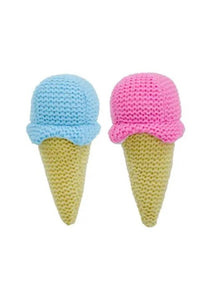 Donut Knit Rattle:
Add a bit of sweetness to your child's playtime with our crochet ice cream rattles. Cute, colourful and fun without all the real sugar! Perfectly shaped to fit little hands and with a pleasant sounding rattle inside to delight any baby.
Available in Blue or Pink only. 
Choose to purchase this item for yourself, add it to a Nappy Cake, or even have it sent directly to the gift recipient complete with your personal message for the gift card.