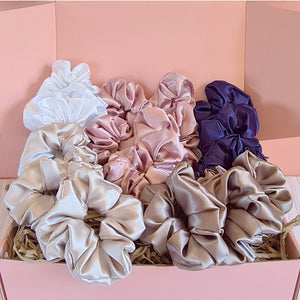 These gorgeous satin scrunchies are 100% all hand made right here in Sydney by The Good Scrunchie. Each & every scrunchie is hand made with care to ensure that only the best is sent out for you! Good for your hair, good for you!
Available in 5 gorgeous colours
- Champagne
- Dusky Rose
- Gunmetal 
- Navy
- White 
They come gift wrapped to complement your chosen gift.
Choose to purchase this item for yourself, add it to a hamper or Nappy Cake, or even have it sent directly to the gift recipient complete with your personal message for the gift card.